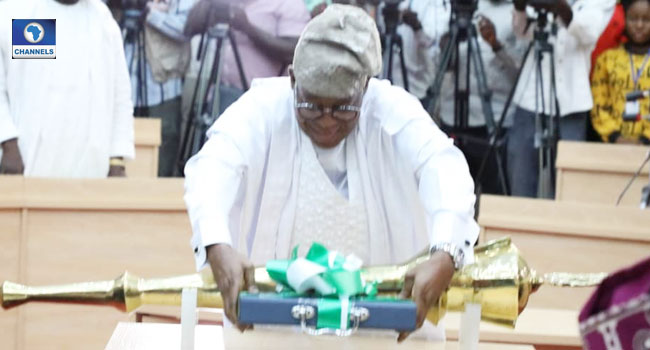 Governor Gboyega Oyetola of Osun State has presented the 2021 appropriation bill of N109.8 billion to the State House of Assembly.
The governor presented the budget tagged, "Budget of Providence" to the parliament on Tuesday.
According to him, the budget is aimed at helping the state recover from the effects of the coronavirus disease.
He explained that stated that the bulk of the government revenue for the year 2020 came from Federal Allocation, adding that efforts would be intensified to boost the Internally Generated Revenue of the state.
The proposed budget estimates capital expenditure at N59.2 billion and current expenditure at N50.6 billion respectively.
In the sectoral breakdown, Finance and Revenue Mobilization received the highest with 37.24percent, while the Education sector got 18.08percent, followed by the Health sector which was allocated 17.98percent, among others.
On his part, the Speaker of the House, Timothy Owoeye promised that the lawmakers will carry out their oversight functions towards supporting the government to increase its internally generated revenue and other sustainable development programmes.
He also asked Nigerians to be committed to good governance, quality leadership and transparency that will translate to job creation for the teeming youths in order to prevent recurrence of the recent ENDSARS protest in the nation.