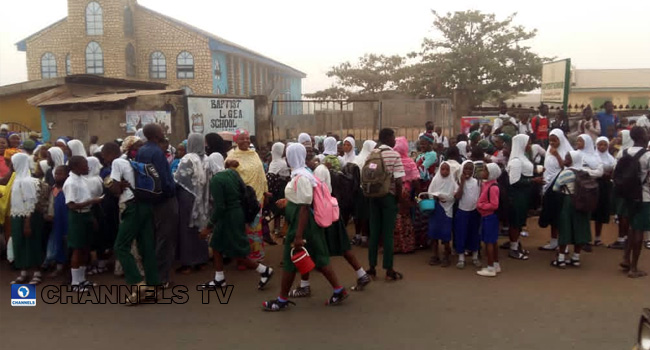 There's been tension in some parts of Kwara State over the decision by authorities of some mission schools to stop students with head covering known as hijab from entering the school premises.
Channels Television correspondent reports that the students were stopped at the gate of the school on Friday morning over the controversial matter which has been on for a few years.
The school authorities said that the use of the headgear is not allowed in line with the doctrine establishing the mission schools, but the students have defied the directives.
Meanwhile, security operatives in the state say efforts are currently ongoing to douse the tension as a meeting has been summoned between operators of mission schools in the state and religious organisation.
While a staff laments how they were chased out, a parent also bemoans how his daughter was wounded during an attempt to enter the school.
The security personnel was on the ground to maintain peace and order to prevent the breakdown of law and order.
Explaining the reasons behind the closure, the President of the Baptist Conference in the state, Victor Dada says the school was shut to prevent forceful entrance of girls in hijab as the rules of the school did not allow such dressing.
The Muslims on their part during a press conference said it has a court judgement in its favour allowing the usage of hijab in public schools across the state wondering why their wards are being turned back.
The spokesperson of the governor Rafiu Ajakaye pleaded with both sides to maintain peace as a committee headed by the state deputy governor has been set up to find a lasting solution to the crisis of hijab usage in schools.
In order to prevent the escalation of the crisis, the government has shut down ten Christian named secondary schools in the state and a committee is expected to come out with lasting solutions.